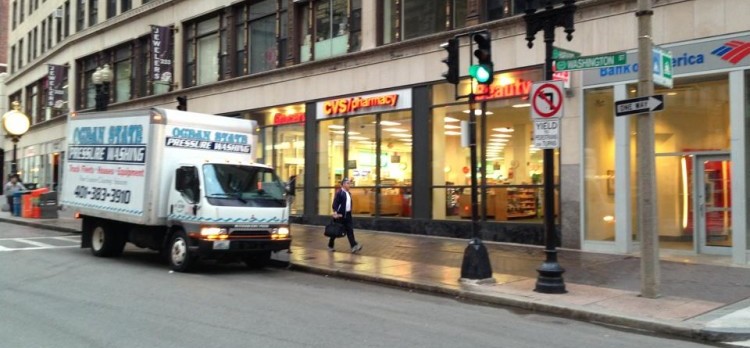 Ocean State Pressure Washing helps your business look professional and maintain long-term quality with our commercial washing services.
Pressure Washing Supports Your Business Image
Pressure washing is an effective way to get curb appeal and save money by averting damages. Ocean State Pressure Washing uses a pressure wash technique that removes dirt, mold, and other buildup without harming your siding.
Pressure washing makes your business great – from the curb all the way up to the front door. The result is a business that projects:

Curb appeal that will draw in new customers and keep existing ones coming back
Long-term benefits that keep mold, mildew, streaks, and stains at bay
Health and safety code compliance thanks to the removal of spore growth
The Benefits of A Clean Commercial Property
We use environmentally-friendly cleaners and top of the line pressure washing equipment to restore the image of your exterior. With our careful, intentional process, our team will restore your property to its professional potential.
Ocean State Pressure Washing is completely committed to your satisfaction. We achieve a job well done using the best equipment, focused customer service, and a result that we're proud of. Get the best Rhode Island commercial washing solution with Ocean State Pressure Washing and begin with your free estimate.